RECIPE BY:
Khanh Ong
SERVING SIZE:
2 – 4 people
INGREDIENTS:
600g Eye fillet / scotch fillet diced to 1 inch cubes
4 cloves of garlic
3 tbsp oyster sauce
2 tbsp dark soy sauce
4 tbsp vegetable oil
1 tbsp caster sugar
A pinch of salt
1 tsp black pepper
1 red capsicum diced same size as the beef
METHOD :
Place beef into a large mixing bowl with 2 cloves of garlic minced.
Add oyster sauce, soy sauce, 1 tbsp of vegetable oil, sugar, salt and pepper into the bowl and combine all ingredients well.
Leave to marinate for 30 minutes.
Place a wok on high heat then add remaining tbsp of vegetable oil until just before smoking point.
Mince the remaining clove of garlic into the hot wok and leave to slightly brown for 15 seconds.
Add ½ the marinated beef into the wok and leave to brown while gently shaking in intervals for 2 -3 minutes, add half the diced capsicum in the last 15 seconds.
Remove the cooked beef and repeat steps 4 – 6.
Set aside for plating.
Vinegar Red Onions
INGREDIENTS:
1 red onion thinly sliced
2 tbsp sugar
4 tbsp white vinegar
METHOD :
Combine all ingredients in a medium sized bowl and leave to infuse for 15 minutes.
Dipping sauce
INGREDIENTS:
2 tsp salt
2 tsp black pepper
1 juice of 1 large lemon
METHOD :
Combine all the ingredients and place in a small serving dish.
TO SERVE:
INGREDIENTS:
200 g watercrest
1 Large tomato thinly sliced
Cracked black pepper
METHOD :
Place watercress on a large serving platter
Scatter over tomatoes.
Place the cooked beef over the tomatoes and watercress.
Drain the red onions and scatter over the beef.
Finish with some fresh cracked pepper.
Our friends from Wine Selectors say that either a Shiraz or a Grenache would be a perfect match for this dish.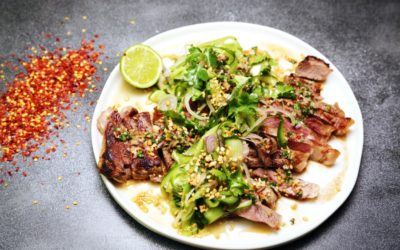 RECIPE BY: Courtney Roulston SERVING SIZE: 2 - 4 people INGREDIENTS: 2 x 230g Coles Finest Sirloin steaks 1 tablespoon Cobram Estate EVOO 2 Lebanese cucumbers, peeled into noodles 2 red shallots (French ), finely sliced ½ cup loosely packed coriander leaves ½ cup...