RECIPE BY:
Courtney Roulston
SERVING SIZE:
2 – 4 people
INGREDIENTS:
500g boneless lean pork belly (cut into 2cm cubes)
2 tablespoons Cobram Estate Extra Virgin Olive Oil
1 thumb sized piece of ginger roughly sliced
2 spring onions (scallions), sliced into 5cm pieces
1 star anise
1 small cinnamon stick
4 tablespoons Lee Kum Ke Dark Soy Sauce
4 tablespoons Shoaxing wine
40g brown sugar
2 teaspoons Chinese black vinegar
2 tablespoons Yeo's Sesame Oil
1 large handful of Chinese greens
1 lemon
1 pinch of salt
1 teaspoon Sesame Seeds
*Steamed rice to serve if wanted
METHOD:
Bring a large pot of water up to a simmer. Plunge the pork into the boiling water for 2 minutes, this will remove any impurities from the pork. Remove the pork from the water, strain in a colander and set aside. Discard the used water.
Heat the Extra Virgin Olive Oil in a large pot or wok, add ginger, spring onion and slowly sauté until brown and fragrant. Add in the star anise and cinnamon and cook for 1 minute.
Add in the pork and sear the outside for a 2-3 minutes moving the pieces around the pan.
Pour in the Lee Kum Kee dark soy sauce and Shoaxing wine to deglaze the pan. Add the brown sugar and enough water to cover the meat. Cover the pan, lower the heat and simmer for 1 hour.
Remove the cover, add in the vinegar and continue to simmer for 15-20 minutes, or until the liquid has reduced by two thirds.
Check for seasoning and adjust if needed.
Turn up the heat and boil until the sauce has turned glossy and coats the pork.
When the pork is almost ready, start on the Chinese greens.
Give the Chinese Greens a flash in cold water then place into a hot pan. Drizzle with Sesame Oil and toss through for a minute or two until slightly wilted but still crunchy. Sprinkle with salt and give a generous squeeze of lemon. Plate up the greens, adding sesame seeds on top.
Using a large spoon, serve the Shanghai Braised Pork Belly into a large bowl, garnish with finely chopped spring onions and serve with steamed rice.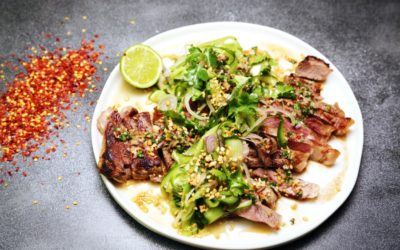 RECIPE BY: Courtney Roulston SERVING SIZE: 2 - 4 people INGREDIENTS: 2 x 230g Coles Finest Sirloin steaks 1 tablespoon Cobram Estate EVOO 2 Lebanese cucumbers, peeled into noodles 2 red shallots (French ), finely sliced ½ cup loosely packed coriander leaves ½ cup...