RECIPE BY:
Leslie Chan
SERVING SIZE:
2 – 4 people
INGREDIENTS:
900 g pork belly (cut into cubes)
2 tbsp oil
50g rock sugar
2 stalks spring onions
10 g ginger (sliced)
5g garlic (sliced)
3 pcs star anise
1 cinnamon stick
SEASONING MIX:
5 tbsp Lee Kum Kee Premium Soy Sauce*
5 tbsp Lee Kum Kee Premium Dark Soy Sauce
2 tsp Lee Kum Kee Panda Brand Oyster Sauce*
3 tbsp Double Phoenix Shao Xing Cooking Wine
700mL Water
METHOD:
Rinse pork belly with boiling water and drain. Set aside.
In a pot, heat the oil with rock sugar over low heat. When the sugar is melting, add in the pork and stir well. Turn to medium heat and continuously stir the pork till browned.
Add the remaining ingredients and stir-fry for 3 minutes. Then stir in the seasoning mix and cook over high heat until boiled.
Turn to medium low heat, cover and simmer for about 45 minutes to 1 hour until pork is fork tender and sauce has reduced to a glistening coating. Stir occasionally to prevent burning and add more water if needed.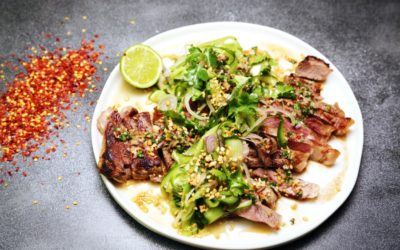 RECIPE BY: Courtney Roulston SERVING SIZE: 2 - 4 people INGREDIENTS: 2 x 230g Coles Finest Sirloin steaks 1 tablespoon Cobram Estate EVOO 2 Lebanese cucumbers, peeled into noodles 2 red shallots (French ), finely sliced ½ cup loosely packed coriander leaves ½ cup...