RECIPE BY:
Leslie Chan
SERVING SIZE:
2 – 4 people
INGREDIENTS:
dumpling wrappers 150g
water (a bowl)
FILLING INGREDIENTS:
300g minced pork
25g ginger (minced)
½ stalk spring onion (finely chopped)
30ml stock or water
2 tbsp oil
MARINADE SAUCE:
½ tsp Lee Kum Kee Premium Soy Sauce
½ tsp Yeo's Pure Sesame Oil
1 tsp Lee Kum Kee Panda Brand Oyster Sauce
1 tsp salt
1 tsp sugar
white pepper (to taste)
½ tsp cornstarch
DIPPING:
2 tbsp Panda Brand Dumpling Soy Sauce
2 tsp Panda Brand Chinese Chilli in Oil (optional)
FILLING MAKING METHOD:
Mix filling ingredients with the marinade sauce until the sauce is incorporated into the mince.
Cover the mixture and rest in the fridge for 3 hours.
COOKING THE DUMPLING:
To wrap the dumpling, take one dumpling skin and scoop about 1 tbsp of pork mixture into the centre of the wrapper. Dip your finger into a bowl of water and wet the wedges of the dumpling wrapper. Then, pinch the sides of the dumpling skin to seal it up tightly with your fingers.
Heat frying pan with oil, place dumpling flat-side down, add room temperature water to one third of the height of dumpling. Turn to low heat and cover with lid. Cook for approximately 10 minutes or until water dries out.
Remove lid and drizzle with oil. Turn to high heat and cook for further 2 minutes or until bottom side is golden brown and crispy.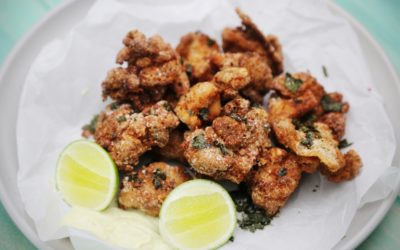 RECIPE BY: Sam Goodwin SERVING SIZE: 2 - 4 people INGREDIENTS: 500g Chicken thigh fillets, skin on 1⁄4 cup light soy sauce 2 tbsp sake 3cm ginger, minced 1 garlic clove, minced 1 tsp caster sugar 1 cup cornflour Sea salt flakes 2L Cobram Estate EVOO oil, for deep...