RECIPE BY:
Michael Weldon
SERVING SIZE:
2 – 4 people
INGREDIENTS:
PIZZA DOUGH:
150g plain flour
150g bread (strong) flour
200mL warm water
3g dry yeast
10ml Cobram Estate Classic Extra Virgin Olive Oil
Pinch of sea salt
PIZZA:
Semolina flour
1pkt Coles Beechwood Smoked Trout
2tbs baby capers
½ bunch of dill
½ bunch of chives, chopped into 1cm lengths
4 tbsp or to taste, Philadelphia Spreadable Cream Cheese
2tbs Seeded mustard
½ red onion, finely sliced
2tbs Cobram Estate Classic Extra Virgin Olive Oil
METHOD:
TO MAKE DOUGH:
Put flour and salt into a large mixing bowl. Add yeast and olive oil to water and stir. Pour into flour and combine with hands to make a ball of dough.
Cover the dough with a tea-towel and leave somewhere warm for half an hour, and dough has doubled in size.
To prepare dough in advance, instead of leaving dough on bench for 2 hours, you can also cover it and put into fridge for 12 hours.
TO MAKE PIZZA:
Preheat a fan-forced oven to 250 degrees, with grill on. Place pizza stone or pizza tray into oven to preheat.
Cover workspace with a pinch of semolina flour and knock out the pizza dough by gently working the dough with fingers so that it stretches out into a pizza base. Use extra semolina flour if needed to stop dough from sticking.
Cover pizza base with olive oil and onions and put into oven. For 1-3 minutes or until dough has risen.
Take pizza base out of the oven and spread with cream cheese and mustard. Add more onion over the top, and place back into the oven for a further 1-3 minutes, or until the dough is golden.
Take pizza out of the oven and top with smoked trout, baby capers, chives and dill fronds. Drizzle olive oil over the top and serve.
Our friends at Wine Selectors recommend pairing this dish with a Chardonnay or Pinot Noir.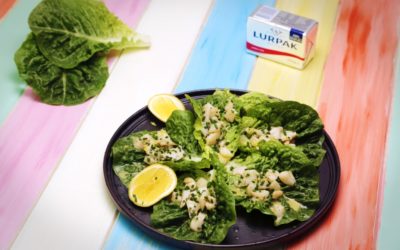 RECIPE BY:Courtney Roulston and Scott McRaeSERVING SIZE:2 - 4 people INGREDIENTS:12 fresh scallops in the half shell80g Lurpak butter, room temperature2 teaspoon lemon zest, finely grated1 large clove garlic, grated2 tablespoons fresh dill, finely chopped1 green...