RECIPE BY:
Matt Sinclair
SERVING SIZE:
6 people
INGREDIENTS:
200gm Digestive biscuits
2/3 cup desiccated coconut, toasted
100gm unsalted butter, melted
SPICED CARMEL:
395g Brancourt's Dairy Condensed Milk (squeeze pack)
100gm unsalted butter, diced
100gm brown sugar
1 Tbsp. all spice
½ tsp sea salt
TOPPINGS:
4 small ripe bananas
300ml thickened cream
1 Tbsp. icing sugar
½ tsp. grated nutmeg
50gm dark chocolate, shaved
METHOD:
Lightly grease a 9" springform cake tin.
Place the biscuits and toasted coconut in a food processor and blitz together into a crumb. Transfer to a bowl and add the melted butter. Stir through to combine. Turn out into the prepared cake tin and gently press into the base and up to 1 inch on the sides. Smooth out with the back of a spoon and ensure the base and sides are evenly covered. Place in the refrigerator for a minimum 15 minutes.
Meanwhile, place a medium saucepan over a low-medium heat. Add the butter and sugar and stir through until sugar has dissolved. Stir in the all spice and salt, followed by the condensed milk. Bring to a light simmer, stirring continuously until thickened and deeper in colour, approximately 6-8 minutes. Remove from heat and allow to cool slightly. Pour into chilled biscuit base and spread out evenly with a spatula. Place in the refrigerator for a minimum of 1 hour or until caramel has set.
Slice bananas and arrange in one layer on top of the caramel.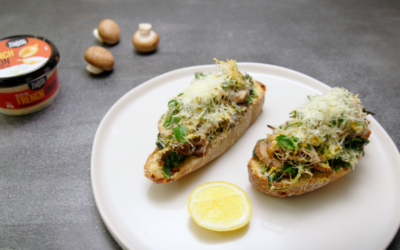 RECIPE BY: Matt Sinclair SERVING SIZE: 2 - 4 people INGREDIENTS: 3 Tbsp Cobram Estate Classic Extra Virgin Olive Oil 1 brown onion, finely sliced 150gm Swiss brown mushrooms Salt and pepper 4 spring fresh thyme 100gm baby spinach 60gm Zoosh French Onion Dip 1 Tbsp...