Spiced Falafel With Pickled Slaw

RECIPE BY:
Courtney Roulston
SERVING SIZE:
4 people 20 Falafel
*Start this recipe the night before

FALAFEL:
250g dried chickpeas
½ tsp KEEN's Chilli Powder
2tbsp cumin seeds
2tbsp coriander seeds
2tsp ground allspice
1tsp baking powder
1 onion, finely chopped
3 cloves garlic, crushed
1 cup flat leaf parsley, chopped, plus extra to serve
1 cup coriander, chopped
2tsp sea salt
½ tsp ground white pepper
1tbsp plain flour
½ cup white sesame seeds
400ml Cobram Estate Classic Olive Oil for frying
Hot chili sauce to serve (optional)
BEETROOT SLAW:
2 medium raw beetroot, peeled, finely sliced into matchsticks
150g red cabbage, cored, finely sliced
½ red onion, finely sliced
1 tsp sea salt
1/3 cup red wine vinegar
2Tb sugar
½ cup ZoOSh Free Range Egg Mayonnaise
2Tb plain Greek yoghurt
METHOD:
Place the dried chickpeas in a bowl, cover with water and soak overnight.
The next day, drain the chickpeas and discard the water. Toast the cumin and coriander seeds in a small frypan over a medium heat for 1 minute, or until fragrant. Remove from the heat and crush the seeds into a fine powder using a mortar and pestle or coffee grinder.
Place the ground spices into a food processor along with all the other falafel ingredients, except the sesame seeds. Blitz until everything has combined to make a rough paste. Be careful not to over blend as you don't want a paste.
Form the mixture into tablespoon sized balls, coat with sesame seeds and set aside on a tray in the refrigerator for 20 minutes for the flavours to develop.
Meanwhile combine the beetroot, cabbage, onion and sea salt in a bowl. Leave for 10 minutes for the salt to draw the moisture from the vegetables. Drain any excess liquid away, then add in the vinegar, sugar and stir well. Set aside to pickle.
Heat the oil to 170 degrees in a saucepan or deep fryer. Make sure the oil is not too hot as the falafel will cook too quickly and not cook through. If the oil is too cool, the falafel will become oil logged. Cook the falafel, in batches for 3-4 minutes or until golden. Drain on kitchen towel.
Mix the mayonnaise and yoghurt together in a bowl.
To serve, drain the slaw and place onto the base of serving bowls. Top with the warm falafel, drizzle with mayonnaise and scatter over Parsley and chili sauce.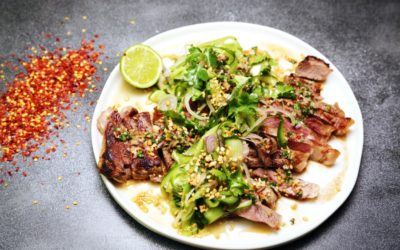 RECIPE BY: Courtney Roulston SERVING SIZE: 2 - 4 people INGREDIENTS: 2 x 230g Coles Finest Sirloin steaks 1 tablespoon Cobram Estate EVOO 2 Lebanese cucumbers, peeled into noodles 2 red shallots (French ), finely sliced ½ cup loosely packed coriander leaves ½ cup...