RECIPE BY:
Matt Sinclair
SERVING SIZE:
2 people
INGREDIENTS:
8 Coles Lamb Cutlets
¼ cup Cobram Estate Classic Extra Virgin Olive Oil
1 tsp. KEEN's Curry Powder
½ KEEN's Chilli Powder
2 cloves garlic, peeled
½ tsp. ground cumin
½ tsp. ground coriander
½ tsp. ground turmeric
1 tsp. sea salt
1 tsp. brown sugar
METHOD:
In a mortar and pestle add the olive oil and garlic and pound to create a paste.
In a small bowl combine all spices, including the KEEN's Curry Powder, salt and brown sugar and mix to combine. Add the olive oil and garlic paste, plus KEEN's Chilli Powder as desired, and mix to combine.
Place cutlets into a non-reactive bowl and cover in marinade, massage to coat evenly. Refrigerate and allow to marinade for a minimum 1 hour. Remove 30 minutes before cooking to bring up to temperature.
Heat a BBQ grill or griddle pan on high until smoking. Grill cutlets for 4-5 minutes on each side for medium/medium-rare. Lamb should have a little bounce when pressed. Remove from grill and rest for 5 minutes before serving.
Serve with a dressed garden salad or preferred BBQ accompaniments.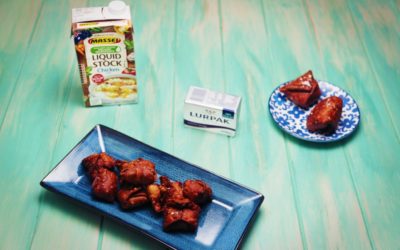 RECIPE BY:Kylie MillarSERVING SIZE:2 - 4 peopleINGREDIENTS:300g flour75g Lurpak Slightly Salted butter75g grated cheddar cheese50g vegemiteColes cling wrapMETHOD:Place all ingredients, except the water, into a food processor and blitz until it resembles fine...