Spicy Tomato & Capsicum Cous Cous

RECIPE BY:
Michael Weldon
TIME:
Prep time: 10-15 mins
Cooking time: 8-10 mins
INGREDIENTS:
1 x Ainsley Harriott's Roasted Vegetable Cous Cous
1 tin Ardmona Diced Tomatoes
1 Red onion, sliced
2 Garlic Cloves, sliced
1 yellow cap, cut into strips
1 green cap, cut into strips
1 red chilli, seeds removed & chopped
1 ½ cup water
½ bunch of parsley
100g feta cheese, in chunks
Cobram Estate Light Extra Virgin Olive Oil
Salt
Pepper
METHOD:
Preheat oven to 220C, fan on.
Drizzle about 2 tbsp olive oil in a large pan, on high heat, and throw in the red onion, pinch of salt, garlic – cook through until the onion softens. Mix in the capsicum and once they've softened slightly, add diced tomatoes and water. Season with salt to bring out the tomatoes' natural sweetness. Mix through 2 packets of roasted vegetable cous cous and then pour into a deep oven safe dish. Push feta chunks into the cous cous mix.  Place dish in the oven and cook for 8-10 minutes until cous cous has plumped up and the feta is gooey.
Garnish with parsley.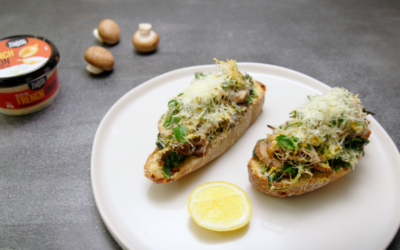 RECIPE BY: Matt Sinclair SERVING SIZE: 2 - 4 people INGREDIENTS: 3 Tbsp Cobram Estate Classic Extra Virgin Olive Oil 1 brown onion, finely sliced 150gm Swiss brown mushrooms Salt and pepper 4 spring fresh thyme 100gm baby spinach 60gm Zoosh French Onion Dip 1 Tbsp...