RECIPE BY:
Courtney Roulston
SERVING SIZE:
4 – 6 people
INGREDIENTS :
2 cups Coles Ricotta cheese (fresh-from the deli)
2 cups baby spinach, wilted in pan, excess liquid removed
1 egg, plus 1 egg yolk, beaten
½ teaspoon cracked black pepper
½ cup finely grated Parmesan, from a block, plus extra for serving
½ teaspoon sea salt
½ cup plain flour, plus extra for dusting
TOMATO SAUCE:
2 cans Ardmona crushed tinned tomatoes
2 tablespoons Cobram Estate Classic Extra Virgin Olive Oil
1 onion, diced
3 cloves garlic, crushed and diced
1 tablespoon thyme, picked
2 tablespoons tomato paste
1 teaspoon sugar
parmesan cheese to serve
METHOD:
Chop the spinach and mix together with the ricotta, egg, pepper, Parmesan and salt in a bowl until well combined. Add flour and stir until just combined and forms a soft ball. (the mixture will be soft with some lumps of ricotta remaining) Add more flour by the tablespoon until it doesn't feel wet.)
Dust a rimmed baking tray with flour. Gently using two dessert spoons, roll football shaped balls of mixture and place them onto the flour lined tray.
For the tomato sauce, heat the oil in a frying pan over a medium heat. Cook the onion and garlic for 2-3 minutes, or until soft. Add in the thyme and tomato paste and cook for a further 2 minutes. Pour in the tinned tomatoes, sugar and a pinch of salt and simmer for 8 minutes to slightly thicken.
Meanwhile cook the gnudi in salted boiling water for 4-5 minutes (they will float once cooked).
Place the sauce into serving bowls and top with the gnudi. Sprinkle with extra Parmesan cheese.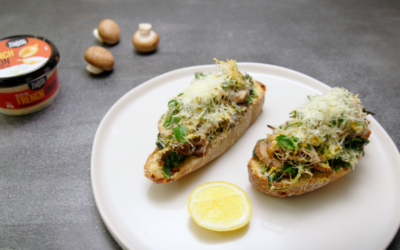 RECIPE BY: Matt Sinclair SERVING SIZE: 2 - 4 people INGREDIENTS: 3 Tbsp Cobram Estate Classic Extra Virgin Olive Oil 1 brown onion, finely sliced 150gm Swiss brown mushrooms Salt and pepper 4 spring fresh thyme 100gm baby spinach 60gm Zoosh French Onion Dip 1 Tbsp...