RECIPE BY:
Matt Sinclair
SERVING SIZE:
4 large rolls
INGREDIENTS:
2 sheets Puff pastry
1 Tbsp. Cobram Estate Classic Extra Virgin Olive Oil
200gm Coles Smooth Ricotta
50gm Coles Danish Fetta, crumbled
50gm Coles Parmesan Cheese, grated
2 brown onions, finely diced
3 eggs
2 packets thawed frozen spinach, excess moisture removed
1 cup panko crumb
½ cup slivered almonds, roasted
1 clove garlic, crushed
1 Tbsp. lemon zest
1 tsp. ground nutmeg
Salt
METHOD:
Preheat oven to 220C and line a baking tray with greaseproof paper.
Heat oil in a pan over a low-medium heat and sauté onions with a pinch of salt for approximately 5 minutes or until translucent. Be sure not to brown.
In a large bowl add spinach, cheeses, 2 eggs, panko, almonds, garlic, lemon zest, nutmeg, sautéed onions and 2 tsp. of salt. Mix together to evenly combine. Taste and adjust if required.
Lightly beat remaining egg to use for egg wash.
Cut pastry sheets in half, lengthways to create 4 rectangular pieces. With wet hands, lay spinach mixture along one side of each sheet. Brush excess pastry with egg wash, roll over to join and trim each end. Place rolls onto prepared baking tray, brush tops with egg wash and place in oven. Bake for 25-30 minutes or until brown and crispy.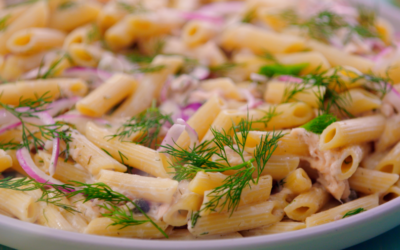 RECIPE BY: Michael Weldon SERVING SIZE: 2 - 4 people INGREDIENTS: 1 x Coles Penne Rigate 500g 1 x Coles Hot Smoked Salmon fillet 1 x ZoOSh Smoked Salmon dip ½ x Red onion, thinly sliced ½ jar Coles baby Capers ½ Dill bunch, roughly chopped (save a few sprigs for...