RECIPE BY:
Matt Sinclair
INGREDIENTS:
4 tubes of Coles fresh squid
2 spring onions , finely sliced white section, save green section for garnish
2cm piece of ginger. julienne
2 Tbsp Cobram Extra Virgin Classic Olive Oil
1 Tbsp Lee Kum Kee Premium Soy Sauce
1 Tbsp sriracha hot sauce
1 Tbsp brown sugar
Fried shallots, for garnish
METHOD:
Use a small sharp knife to cut the squid tubes lengthways from opening to tip. Lay the tubes flat, inside up, on a clean work surface. Score the tube in a diamond pattern (don't cut all the way through). Then cut into small bite size piece.
Add oil to a hot frying pan, add white section of spring onions, ginger and cook for 1 minute. Add squid and toss to coat, cook for 1-2 minutes or until tender. Stir in soy sauce, sriracha sauce, brown sugar and some of the green section of spring onions toss until combined.
TO SERVE:
Garnish with fried shallots and green section of spring onions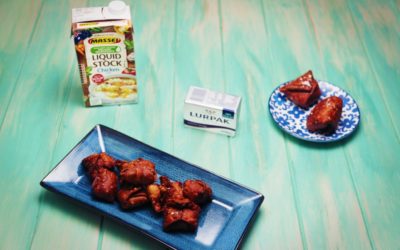 RECIPE BY:Kylie MillarSERVING SIZE:2 - 4 peopleINGREDIENTS:300g flour75g Lurpak Slightly Salted butter75g grated cheddar cheese50g vegemiteColes cling wrapMETHOD:Place all ingredients, except the water, into a food processor and blitz until it resembles fine...