RECIPE BY:
Will Stewart
SERVING SIZE:
2 – 4 people
INGREDIENTS:
2 large sweet potatoes, sliced into wedges
1 cup Cobram Estate Classic EVOO
1 teaspoon of sea salt flakes
1 teaspoon ground cumin
400g lupin flake
2 tablespoons hulled tahini
2 garlic cloves, crushed
1⁄4 teaspoon Coles cayenne pepper
1⁄2 cup Massel vegetable Stock
1⁄4 cup ice-cold water
juice of 1 lemon
freshly ground black pepper
16 baby amoroso truss tomatoes
6 garlic cloves, peeled and halved
2 tablespoons Cobram Estate Classic EVOO
sea salt flakes and freshly ground black pepper
GARNISH:
1⁄4 bunch of flat-leaf parsley, roughly chopped
1⁄4 cup pine nuts, toasted
sourdough, grilled
METHOD:
For the Preheat your oven to 200°C.
Place the sweet potato on a baking tray with a drizzle of olive oil, a sprinkling of salt and ½ a teaspoon of ground cumin and roast for 20-30 minutes until cooked through and slightly caramelised.
Combine the soaked lupin, tahini, garlic, the cayenne pepper, the remaining salt and ground cumin and the vegetable stock in a blender and blitz. Do not expect the mixture to immediately blend smooth. It may take a number of times blitzing and stirring, adding a little olive oil each time to get a more even blend.
Add the sweet potato to the blender and blitz again. Gradually pour in the ice-cold water and blitz until the consistency you desire. Season to taste with the lemon juice and salt and pepper.
Spoon the hummus into a large bowl and, using the back of the spoon, guide to the outside of the dish as you turn the bowl with your other hand – this creates a well. Pour a drizzle of olive oil into the well, sprinkle on the herbs, pine nuts and a pinch of salt.
Once the sweet potato has cooked, reduce the oven temperature to 140°C.
Place the tomatoes in an ovenproof dish so they are snug and, as evenly as possible, scatter on the garlic.
Drizzle on the olive oil, season with salt and pepper and roast for an hour until soft and tender.
Serve the hummus and tomatoes on a platter with grilled sourdough.
Our friends at Wine Selectors recommend pairing this dish with a Chardonnay or Pinot Grigio.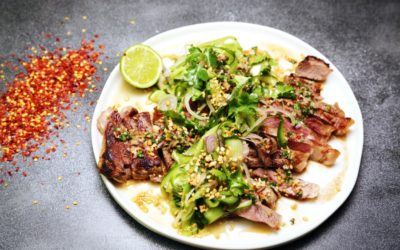 RECIPE BY: Courtney Roulston SERVING SIZE: 2 - 4 people INGREDIENTS: 2 x 230g Coles Finest Sirloin steaks 1 tablespoon Cobram Estate EVOO 2 Lebanese cucumbers, peeled into noodles 2 red shallots (French ), finely sliced ½ cup loosely packed coriander leaves ½ cup...