RECIPE BY:
Matt Sinclair
SERVING SIZE:
4 people
INGREDIENTS:
4 Coles pork loin medallions
8 slices Coles White Vienna bread
200gm plain flour
3 eggs
400gm panko crumbs
Salt and Pepper
1 cup red cabbage, finely shredded
½ Tbsp. Cobram Estate Classic Extra Virgin Olive Oil, extra for frying
½ Tbsp. lemon juice
TONKATSU SAUCE:
½ tsp. KEEN's Mustard Powder
2 ½ Tbsp. Lee Kum Kee Premium Soy Sauce
½ cup tomato sauce
¼ cup Worcestershire
1 Tbsp. brown sugar
2 Tbsp. mirin
1 clove garlic, peeled, grated
2 cm piece ginger, peeled, grated
METHOD:
Preheat deep fryer to 200C.
Lay out pork medallions onto a chopping board and cover with greaseproof paper. Using a mallet or rolling pin, beat the pork medallions to a thickness of 1cm.
Set up a crumbing station using 3 shallow bowls or plates. In the first bowl, place the flour and season with a pinch of salt and cracked black pepper. In the second bowl, whisk the eggs until smooth and combined. Finally, place the panko crumb in the last bowl. Place pork into the flour and turn to coat both sides evenly, shake of excess and transfer to egg wash. Coat well and transfer to panko crumb. Transfer back to the egg wash and coat for a second time. Finish with the final panko coating, pressing down firmly to coat both sides. Transfer to a clean plate ready for frying.
Place pork pieces in batches into the deep fryer. Fry until golden brown, turning once or twice to ensure even cooking, approximately 5-7 minutes. Transfer onto paper towel to drain any excess oil and lightly season with salt on both sides.
Meanwhile, add all tonkatsu sauce ingredients, including KEEN's Mustard Powder, to a small saucepan and place over a medium heat and bring to a light boil. Reduce the heat to low and simmer until the sauce has reduced by 1/3, approximately 7-8 minutes. Allow to cool slightly before serving.
In a small bowl add the cabbage, oil, lemon juice and season lightly with salt and pepper. Toss to coat.
To assemble, lay out 4 buttered bread slices and place crumbed pork in the middle. Spoon over desired amount of tonkatsu sauce and top with shredded cabbage. Cover with remaining bread slices and cut off the crusts. Serve immediately.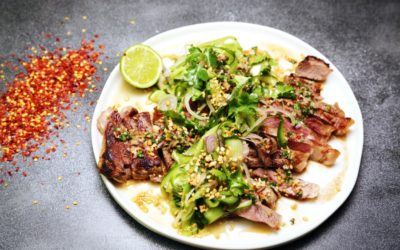 RECIPE BY: Courtney Roulston SERVING SIZE: 2 - 4 people INGREDIENTS: 2 x 230g Coles Finest Sirloin steaks 1 tablespoon Cobram Estate EVOO 2 Lebanese cucumbers, peeled into noodles 2 red shallots (French ), finely sliced ½ cup loosely packed coriander leaves ½ cup...