Twice Cooked Beef Short Ribs

RECIPE BY:
Michael Weldon
TIME:
Prep Time 10mins
Cook Time 2-2.5hrs
SERVING SIZE:
2 – 4 people
INGREDIENTS:
1 x Coles Beef Short Ribs
200mls Apple Juice
2tbs Apple Cider Vinegar
1tbs Mustard Powder
1tbs Smoked Paprika
1tbs Sea Salt
1tbs Black Pepper
1tbs Brown Sugar
1tsp Chilli Flakes
*1 pack Little Lucifer Ready To Use  Smoking Wood Chips – Hickory & Mesquite Flavour
METHOD:
Preheat an oven to 150C
Combine the juice, vinegar, mustard powder, smoked paprika, sea salt, black pepper, brown sugar and chilli flakes in a bowl and whisk together.
Place the beef ribs in a deep oven tray, pour over the juice liquid and cover with foil. Place in the oven and cook for 1.5-2hrs, until the meat is tender.
Place the ribs onto a plate and in the fridge to chill and pour the liquid into sauce and reduce by half. When chilled, cut ribs between each bone.
To prepare the barbecue, pierce the Little Lucifer pack with a fork and place straight onto the charcoal. Place the lid on to allow pack to smoke.
On a barbecue or on a grill pan at home, once hot, place the ribs on the grill, glazing with the liquid reduction. Glaze and turn until evenly glazed and heated through.
Serve with your favourite salad and enjoy.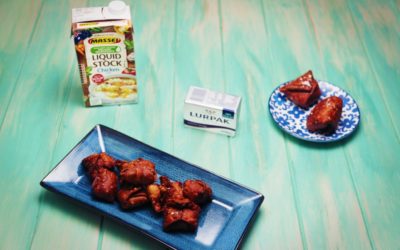 RECIPE BY:Kylie MillarSERVING SIZE:2 - 4 peopleINGREDIENTS:300g flour75g Lurpak Slightly Salted butter75g grated cheddar cheese50g vegemiteColes cling wrapMETHOD:Place all ingredients, except the water, into a food processor and blitz until it resembles fine...