RECIPE BY:
Matt Sinclair
SERVING SIZE:
2 – 4 people
INGREDIENTS:
1/2 small brown onion, finely sliced
1/4 large sweet potato, washed and chopped into 1 inch cubes*
1 heaped tablespoon, mushroom XO sauce (from the Asian grocery aisle at most supermarkets)
100g firm tofu, chopped into 1 inch cubes (about a third of a packet, as a guide)
1/2 cup vegetable stock
1 handful fresh green or butter beans, trimmed
2 tablespoons pickled mushrooms (optional)
1-2 sprigs green peppercorns (you could use a teaspoon of dried Sichuan peppercorns instead)
METHOD:
Preheat an oven to 200c. In a heavy based frying pan on a medium heat, add a tablespoon of vegetable oil with the onions and stir fry for 1-2 minutes until translucent. Throw in the sweet potato and turn up the heat to lightly brown the edges of the sweet potato for 2-3 minutes. Add the XO and turn down the heat, coating everything evenly. Throw in the tofu and gently stir to combine. Add a pinch of salt flakes and the stock and bring the hot pot to a simmer. Add the beans, pickled mushrooms and peppercorns, stir briefly to combine season, to taste.
Pour the hot pot into a small cast iron dish or any heavy casserole pot that 'just' fits the ingredients (you don't want a heap of space, because you want the liquid to bubble, not evaporate completely). If it's looking a little dry, top with more stock but do not cover completely. Bake for 15-20 minutes or until the top is crispy and golden and the liquid has reduced to a sauce consistency. Carefully remove and set aside until cool enough to serve. Serve with brown rice, noodles or a super fresh cabbage salad.
TIP: Basically, you want everything to be roughly the same size so everything cooks evenly. Bite-sized pieces are roughly what you want to go for!
Our friends at Wine Selectors recommend pairing this dish with a Shiraz or Grenache.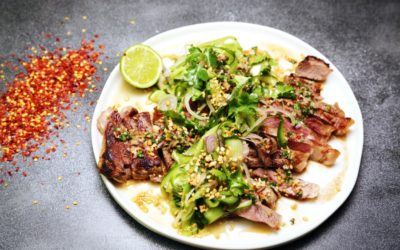 RECIPE BY: Courtney Roulston SERVING SIZE: 2 - 4 people INGREDIENTS: 2 x 230g Coles Finest Sirloin steaks 1 tablespoon Cobram Estate EVOO 2 Lebanese cucumbers, peeled into noodles 2 red shallots (French ), finely sliced ½ cup loosely packed coriander leaves ½ cup...