RECIPE BY:
Michael Weldon
TIME:
Prep Time 10 mins
Cook time 20-25 mins
INGREDIENTS :
2 tbsp Cobram Estate Robust Extra Virgin Olive Oil
1 Onion, chopped
3 garlic cloves, roughly chopped
1 thumb size piece of Ginger, grated
2 tbs KEEN's Curry powder
1tbs Garam Masala
1tbs Cumin powder
2 Birdseye Chilli, halved
2 sprigs of Curry Leaves, stems removed
1 litre of Massel Vegetable Liquid Stock
1 Broccoli, cut into bite sized pieces
1 small Cauliflower, cut into bite sized pieces
200g Green Beans, cut into 4 cm pieces
100g Peas
50g Cashew nuts
¼ cup of yoghurt
Sea Salt
Curry Leaves to garnish
METHOD :
Heat up oil in a large pan before adding onion and a pinch of salt. Once onion starts to soften, add ginger and garlic and cook for 1-2 minutes.
Add KEEN's curry powder, garam masala, cumin and fry off until spices become aromatic. Add stock, chilli, curry leaves and bring to the boil. Once boiling add broccoli, beans and cauliflower and allow to simmer for 10-15 minutes until they are soft. Just prior to serving, add yogurt, peas and cashew nuts and cook until they are warmed through. Serve with extra yoghurt and curry leaves to garnish.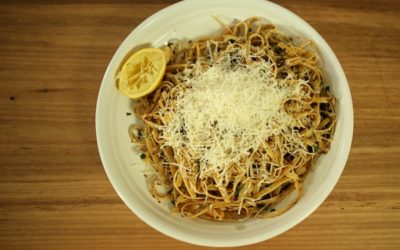 RECIPE BY: Matt Sinclair SERVING SIZE: 2 - 4 people INGREDIENTS : 300gm raw banana prawns, cleaned, chopped into 2cm pieces 130gm raw chorizo, peeled 200gm fettuccine 1 Tbsp. Cobram Extra Virgin Olive Oil 3 cloves garlic, finely sliced ¼ cup toasted pine nuts 1/3 cup...