RECIPE BY:
Sunny Kulwinder Singh (Owner of Glassy Junction)
INGREDIENTS:
2 large red potatoes – peeled, boiled, shredded cold
1 ½ cup Indian Cottage Cheese, shredded
2 cups chopped baby spinach
¼ cup peas
2 tbsp salt
1tsp black pepper
1 tsp coriander powder
1 tsp cumin powder
3 tsp cornflour
1 tsp ground cashew nuts
Cobram Estate Light Extra Virgin Olive Oil – for frying
MINT SAUCE:
½ cup mint leaves
½ cup coriander leaves
1 shallot diced
3-4 tbs Greek yoghurt
1 tsp grated ginger
Salt and pepper
METHOD:
Preheat the oil in a deep fryer to 170C.
In a bowl, combine the potatoes, cheese, baby spinach, peas, salt, pepper, coriander powder, cumin, cornflour and cashew nuts – mix well with hands by moving ingredients around and pressing it down into the bowl.
Make 2cm thick patties and spread these out on a plate.
In the deep fryer, fry patties for 3-5 minutes at 170C until it's 80% done; lift basket and rest for 1-2 minutes, then fry once more for 1 minute at 190C – this makes the patties nice and crispy!
Mint sauce: blend the mint leaves, coriander leaves and shallot into a paste and then add Greek yoghurt, salt and pepper and fresh ginger – mix well.
To serve, place vegetarian cutlets over green salad and top fresh coriander, and the delicious mint sauce.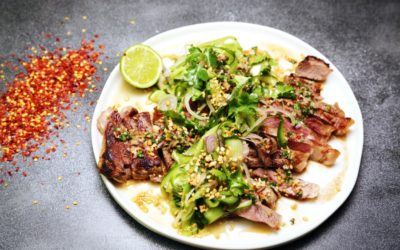 RECIPE BY: Courtney Roulston SERVING SIZE: 2 - 4 people INGREDIENTS: 2 x 230g Coles Finest Sirloin steaks 1 tablespoon Cobram Estate EVOO 2 Lebanese cucumbers, peeled into noodles 2 red shallots (French ), finely sliced ½ cup loosely packed coriander leaves ½ cup...