RECIPE BY:
Matt Sinclair
SERVING SIZE:
20 pieces
INGREDIENTS:
1 packet frozen spring roll wrappers, defrosted
100gm vermicelli noodles
2 Tbsp. Lee Kum Kee Premium Soy Sauce
1 Tbsp. Shaoxing wine
1 Tbsp. Cobram Estate Classic Extra Virgin Olive Oil
1 clove garlic, finely grated
1 cm piece ginger, peeled, finely grated
1 long red chilli, finely chopped
3 spring onions, finely sliced
400gm wombok, finely shredded
1 large carrot, finely grated
1 tsp. white sugar
1 tsp. Chinese five spice
½ tsp. salt
1 tsp. corn flour
1 Tbsp. hot water
Extra olive oil for frying
METHOD:
Place vermicelli noodles in a bowl and cover with warm water. Allow to soak for 10 minutes or until al dente. Strain and set aside.
Add oil to a frypan or wok over a medium-high heat. Add garlic, ginger and chilli and fry off, stirring continuously until aromatic, approximately 3 minutes. Be sure not to burn. Add wombok and carrot and mix to combine. Cook until slightly wilted, approximately 3-4 minutes. Add soy sauce, Shaoxing, sugar, five spice and salt and mix through to combine. Taste and adjust seasoning if required. Remove from heat, add vermicelli noodles and toss to combine. Set aside to cool slightly.
Mix the cornflour and water in a small ramekin until flour is completely dissolved.
To assemble, carefully separate one wrapper at a time, covering the remaining pastry with a damp towel in between. Place the spring roll wrapper smooth side down with a corner facing upward, like a diamond. Spoon approximately 2 Tbsp. of the filling in the bottom corner, fold over and roll to half way. Using your finger, dab a small amount of cornflour mixture on the outer corners, fold into the middle and tightly roll to the upper corner. Dab another small amount of cornflour mixture on the top corner and roll to seal. Place on a lined tray and cover with a damp towel. Repeat with remaining wrappers.
To fry, heat the oil in a deep fryer or saucepan to 180C. Gently place spring rolls into oil in batches, turning regularly to ensure even cooking. Fry for approximately 6 minutes, until golden and crispy. Transfer to paper towel and allow to cool slightly.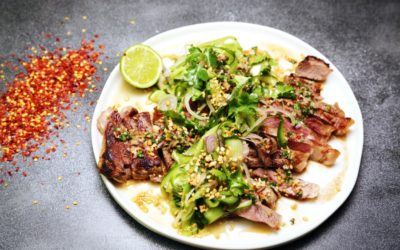 RECIPE BY: Courtney Roulston SERVING SIZE: 2 - 4 people INGREDIENTS: 2 x 230g Coles Finest Sirloin steaks 1 tablespoon Cobram Estate EVOO 2 Lebanese cucumbers, peeled into noodles 2 red shallots (French ), finely sliced ½ cup loosely packed coriander leaves ½ cup...