Vietnamese Lemongrass Beef Salad

RECIPE BY:
Matt Sinclair
INGREDIENTS:
600gm Coles Porterhouse Steak
1 Tbsp. Cobram Estate Extra Virgin Olive Oil
125gm dried vermicelli noodles
1 Large carrot, julienned
1 Lebanese cucumber, julienned
100gm bean sprouts
1/3 cup coriander
1/3 cup mint leaves
1/3 cup Vietnamese mint leaves
1/3 cup roasted peanuts, chopped
2 Tbsp. fried shallots
1 lime, juice
MARINADE / DRESSING:
4-5 tbsp fish sauce
3 tbsp lime juice
2 tbsp rice wine vinegar
1 birdseye chilli, finely chopped
4 clove garlic, finely grated
2 inch piece ginger, finely grated
4-5 stalk lemongrass, white part only, finely grated
1 Asian shallot, finely sliced
METHOD:
For the marinade and dressing, blitz together the fish sauce, lime juice, rice wine vinegar, chilli, garlic, ginger, lemongrass stalk and Asian shallot until you have a fine consistency. Pour half of the contents over the meat and put the rest aside to use as the dressing.
Ensure the meat is fully covered in the marinade, cover and refrigerate for 30-45 minutes. Then allow beef to come up to room temperature before cooking.
Place noodles in a heatproof dish and cover with hot water. Soak for 5-7 minutes or until softened. Drain and rinse under cold water. Place strained noodles in a large serving bowl and the cucumber, carrot, bean sprouts and herbs, toss to combine.
Preheat oven to 200C. Heat oil in a pan over high heat. Once oil is smoking, add steak. Cook for approximately 4 minutes either side. Place steak in oven and cook for a further 4 minutes. Remove and allow to rest for 10 minutes. Steak should be cooked medium rare and have bounce when pressed.
Add lime juice to the dressing and mix through. Pour enough dressing over noodles to evenly coat all salad ingredients. Portion noodles into serving bowls. Slice steak thinly against the grain. Add sliced steak to each bowl and garnish with peanuts and fried shallots. Serve immediately.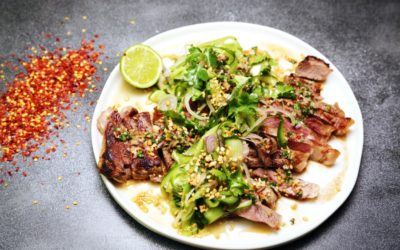 RECIPE BY: Courtney Roulston SERVING SIZE: 2 - 4 people INGREDIENTS: 2 x 230g Coles Finest Sirloin steaks 1 tablespoon Cobram Estate EVOO 2 Lebanese cucumbers, peeled into noodles 2 red shallots (French ), finely sliced ½ cup loosely packed coriander leaves ½ cup...