Yoghurt Curry Lamb with Herb Salad

RECIPE BY:
Michael Weldon
FEED:
6-8
TIME:
Prep Time 10-15 mins
Marinate time 6-24hrs
Cook 1.5 hrs

INGREDIENTS :
1 x 2-2.5kg Coles Lamb Shoulde
1ltr Greek Yoghurt
3tbs KEEN's Curry Powder
5tbsp Cumin Powder
1 Lemon, zest and juice
¼ cup Cobram Estate Extra Virgin Olive oil
1tbs Sea Salt
1 tsp ground Black Pepper
3 Garlic cloves, sliced
SALAD:
1 bunch of Parsley, leaves picked
1 bunch of Mint, leaves picked
1 bunch of Coriander, leaves picked
1 head of Baby Cos, washed and picked
1 Shallot, sliced thin
Lemon
Olive oil
Sea Salt
Black
METHOD :
Combine yoghurt, curry powder, cumin powder, lemon, olive oil, salt and pepper in a bowl, whisk together until evenly mix.
Remove ¼ of the mixture and save in the fridge to be used for serving.
Add the garlic to the final ¾ of the yoghurt mixture to make the marinade.
Cut 1 cm deep slashes into the lamb shoulder all over the leg. Place the shoulder into a large glass bowl or plastic container (not metal). Pour over the yoghurt marinade. Marinade for at least 6 hour but if you have time you can leave it for up to 24hrs.
Heat an oven to 180C
Remove the lamb from the fridge and place onto an oven tray with a roasting rack in it. Allow to come up to room temperature, for about an hour.
Cook at 180C for 20 minutes then turn down to 160C for the next 1-1.5 hours until the lamb is cooked to your liking.
Once cooked to your liking remove from the oven and allow to rest for 20-25 minutes.
Combine all the salad ingredients, drizzle with oil and lemon. Season to taste with pepper and salt.
Serve lamb with remaining yoghurt sauce and salad on the side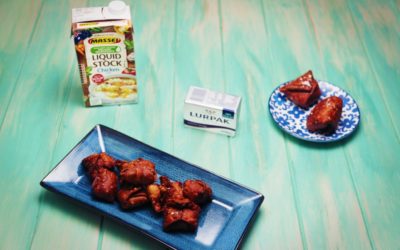 RECIPE BY:Kylie MillarSERVING SIZE:2 - 4 peopleINGREDIENTS:300g flour75g Lurpak Slightly Salted butter75g grated cheddar cheese50g vegemiteColes cling wrapMETHOD:Place all ingredients, except the water, into a food processor and blitz until it resembles fine...